I haven't blogged in FOREVER, but I've been super busy. I promise to be better about that(blogging, not being busy).
I just wanted to take a moment to brag about my first OFFICIAL Roller Derby bout with CNY's first Men's Roller Derby Team: The Quadfathers! I am so honored and stoked to be a part of this, that I'm not sure I can even articulate it.
I was very excited because for our exposition bout earlier in the season (you know, the one where I broke my wrist) I was a blocker, but in our recent scrimmages and in this bout, I was a Jammer!
If you're not familiar with Roller Derby, or the differences between blockers and jammers, check out this (quick) fun video that reviews all the basics: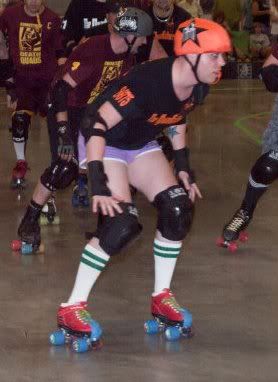 Some early photos are up from the bout (I'm sure there will be many more) and some are on my Facebook page:
Click Here
And, finally, there's a bout recap on the offical blog for the Quadfather's that gives me a nice little shout-out (in case you don't know, my Roller Derby name is Rebel Without a Pulse [Roller Derby skaters typically skate under an assumed name and in as an alternate personality, Rebel is Roller Derby's Little Dead Derby Dude. Yes, he's a ZOMBIE!) and I get a special shout out about half way through the article! Check it out here:
Official Quadfathers Blog
I am ABSOLUTELY and COMPLETELY in love with Roller Derby. We MAY have one final bout this season (which was a nice surprise I discovered in my email inbox this morning, as of Saturday's bout we were done with all but our scrimmages) on September 19th. If you're in town and/or available I'd love for you to see the roller-sport that's stolen my heart!
And in case you missed it, I wrote an article for the Syracuse Post Standard, it appears here:
Syracuse.com